| | | | | |
| --- | --- | --- | --- | --- |
| Page 1 | Page 2 · Found: 128 store items | | | | |
---
Speaker: Dr. R. C. Sproul

Hardback ... $12.00 USD


Central to God's character is the quality of holiness. Yet, even so, most people are hard-pressed to define what God's holiness precisely is. Many preachers today avoid the topic...
---
Speaker: Rosaria Butterfield

Paperback ... $12.00 USD

---
A Practical and Pastoral Study of Divine Impassibility
Speaker: Samuel Renihan

Paperback ... $12.00 USD


This book deals with something that you may have never even heard of, the doctrine of divine impassibility.
---
Calling and Equipping Men to Lead Their Homes
Speaker: Voddie Baucham

Paperback ... $12.00 USD


It's hard to overestimate the importance of the family, and that of fathers in particular. We've heard it said, "As the family goes, so goes the nation." But it can also be said...
---
Paperback ... $12.76 CAD


WHAT IS THE GOSPEL OF JESUS CHRIST? THE TRUTH OF THE CRUCIFIED CHRIST... ...is a supremely important and essential truth because it is a heavenly truth condescending unto fallen...
---
The Invalidity of Roman Catholic Baptism
Author: J.H. Thornwell

Paperback ... $12.95 USD


In 1845 the General Assembly of the American Presbyterian Church declared that Roman Catholic baptism is not Christian baptism. But in the ecumenical twentieth century, that...
---
Paperback ... $12.99 USD


Do you know why you believe in Christ? If challenged by a skeptic, would you be able to give a satisfying answer? We must grasp actual reasons that matter in our lives. It's not...
---
(is not as confusing as it sounds)
Author: Dr. Fred DeRuvo

Paperback ... $12.99 USD


Those who understand the Bible in literal terms are constantly accused of not understanding the Bible in literal terms. Someone will point to the word "all" or "this" or "that"...
---
Paperback ... $13.00 USD


Daniel 2 reveals not only the order of empires that will occur and lead up to the physical return of Jesus at the end of this age, but tells us much about them. We learn not only...
---
Author: Charles Haddon Spurgeon

Paperback ... $13.58 USD ($41.30) You Save 67%


The Spurgeon Booklet Pack consists of the following 14 booklets by Charles Spurgeon: Blood of the Lamb Christ Crucified A Defense of Calvinism Effective Prayer Election For Whom...
---
Paperback ... $13.82 USD


E.A. Johnston, Ph.D., D.B.S. is a fellow of the Stephen Olford Center for Biblical Preaching and an evangelist and conference speaker with Ambassadors For Christ Intl.-USA. Dr....
---
Two Parables of Paedobaptism and One Parable of the Death of Jesus Christ
Author: Hal Brunson, Ph.D.

Paperback ... $13.95 USD


The book is about the underlying errors of paedobaptism, particularly those errors related to the Abrahamic Covenant and the imagined correlation between infant circumcision and...
---
Some great topics from Christian theology
Author: Bob Faulkner

Paperback ... $14.00 USD


Teacher Bob Faulkner wrestles with some of the most serious issues the Bible introduces: The identification of Jesus Christ, the nature and extent of Jesus' grace and salvation,...
---
Paperback ... $14.00 USD


"Sheep are mentioned 176 times, lambs 164 times, and shepherds 80 times in Scripture. No mention of the Shepherd-sheep metaphor is so well-known as Psalm 23. Though three...
---
Living the Gospel Centered Life
Author: Dr. Sinclair B. Ferguson

Hardback ... $14.00 USD


Noted theologian, pastor, and educator Dr. Sinclair B. Ferguson explores aspects of the person and work of Jesus in his latest book, In Christ Alone: Living the Gospel-Centered...
---
Ten Spurgeon sermons focusing on sovereignty of God, the five points of Calvinism and...
Author: C. H. Spurgeon

Hardback ... $14.00 USD ($29.00) You Save 52%


"I have my own private opinion that there is no such thing as preaching Christ and Him crucified, unless we preach what is nowadays called Calvinism. It is a nick name to call it...
---
Their Cause, Number, Character, Furniture and Special Work (1859)
Author: David Steele

Hardback ... $14.00 USD ($29.00) You Save 52%


This is a great companion volume to Steele's Notes on the Apocalypse. Here Steele zeros in on and works primarily from the text of Revelation 11:13, "I will give power unto my two...
---
Hardback ... $14.00 USD ($29.00) You Save 52%


Revised and annotated, with an introductory essay by W.G.T. Shedd. Shedd states that "this particular treatise is perhaps as pregnant and suggestive as any that Augustine, or any...
---
Published By: Whitefield Media

Paperback ... $14.25 USD ($15.95) You Save 11%


By Ann Childress In An Everlasting Covenant Ann Childress directs our attention to the fact that Reformed theology is properly understood in a covenantal context. From the...
---
The Sufficiency of Scripture for All of Life
Author: Joseph A. Pipa Jr.

Paperback ... $14.40 USD


This book is a collection of lectures from the 2000 GPTS Spring Theolosgy Conference. The goal of the conference was to demonstrate the need to develop a consistent Christian...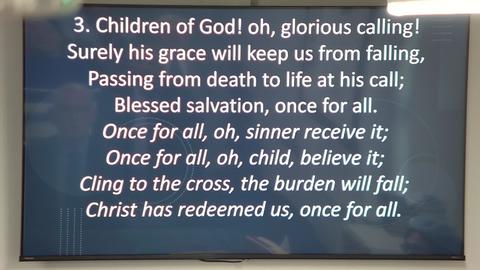 Dromore, N. Ireland
Dromore Free Presbyterian Church
Dr. R. Albert Mohler, Jr.
10th - Tenth Presbyterian