Breaking News
All | The Vault | United Prayer | SA Newsroom
| | |
| --- | --- |
| TUESDAY, MAR 29, 2022 | |
United Prayer Journal // DAY 440
This resolution of
Daily United Prayer
is based on
An Humble Attempt
, originally put forward by Jonathan Edwards in 1748. Its design is to encourage God's people in the duty of united extraordinary prayer; setting aside some time every day to pray for the revival of His church and the advancement of Christ's kingdom in our homes, in our churches, in our nation, and in the world.
| | | |
| --- | --- | --- |
| | | |
"For yet a little while, and he that shall come will come, and will not tarry." Hebrews 10:37.

I read this passage last night and enjoyed the construction of these words, "HE THAT SHALL COME, WILL COME." It implies a certainty in the promises of God. It is exhorting us to persevere in our unremitting trust in God. The cares of this world and the unrelenting trials that we face would tempt us to weaken in our confidence in God and in His promises. We can hear the mockery of the world, "Where is the promise of his coming?" (2 Peter 3:4). This refers specifically to Christ's second coming, but we can be tempted to doubt that God will even come in revival blessing at all. But Hebrews 10:35-36 assures us, "Cast not away therefore your confidence, which hath great recompence of reward. For ye have need of patience, that, after ye have done the will of God, ye might receive the promise." We are on DAY #440 of United Prayer. We have need of patience, friends. Burn these words into your soul: HE THAT SHALL COME, WILL COME. Even so, come, Lord Jesus.
DAILY UNITED PRAYER
foundationsgroup.org
Mon-Fri @ 12pm EDT // Sat @ 10am EDT
We invite you to join our dedicated and earnest group of praying participants of all ages from around the world that meet every day over Zoom to pray. At the start of each prayer call, a different individual will bring a brief Scriptural meditation. Here's the most recent:
| | | | | | |
| --- | --- | --- | --- | --- | --- |
| | | | | | |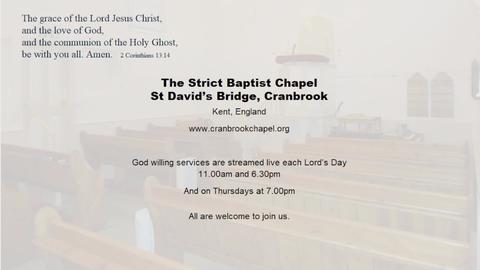 Cranbrook, Kent, England
St David's Bridge Strict Baptist Chapel