Breaking News
All | The Vault | United Prayer | SA Newsroom
| | |
| --- | --- |
| FRIDAY, MAR 4, 2022 | |
United Prayer Journal // DAY 419
This resolution of
Daily United Prayer
is based on
An Humble Attempt
, originally put forward by Jonathan Edwards in 1748. Its design is to encourage God's people in the duty of united extraordinary prayer; setting aside some time every day to pray for the revival of His church and the advancement of Christ's kingdom in our homes, in our churches, in our nation, and in the world.
"Behold, the days come, saith the LORD, that the plowman shall overtake the reaper, and the treader of grapes him that soweth seed; and the mountains shall drop sweet wine, and all the hills shall melt." Amos 9:13.

These are some of the most glorious words to describe a future season of harvest and blessing that is so bountiful that "there shall not be room enough to receive it." It is the blessing that Joseph experienced in the seven plenteous years of bounty before the great famine where it says, "the earth brought forth by handfuls." (Genesis 41:47). The imagery in Amos 9:13 of the plowman overtaking the reaper is a vivid one and communicates a beautiful season where there is so much sowing and reaping that it's all happening at the same time without hardly any time in between them. I look forward to such a day. A day when God will pour out His Spirit in such measure so as to yield untold fruitfulness in the church. As the church began in the book of Acts, so it will be at the end of the age where, "believers were the more added to the Lord, multitudes both of men and women." (Acts 5:14). This means men and women in your church and in your family. Let's pray to that end, friends.
DAILY UNITED PRAYER
foundationsgroup.org
Mon-Fri @ 12pm EDT // Sat @ 10am EDT
We invite you to join our dedicated and earnest group of praying participants of all ages from around the world that meet every day over Zoom to pray. At the start of each prayer call, a different individual will bring a brief Scriptural meditation. Here's the most recent:
| | | | | | |
| --- | --- | --- | --- | --- | --- |
| | | | | | |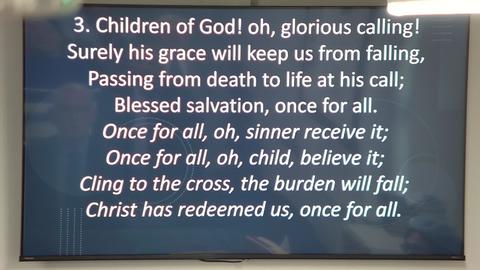 Dromore, N. Ireland
Dromore Free Presbyterian Church