Breaking News
All | The Vault | United Prayer | SA Newsroom
| | |
| --- | --- |
| TUESDAY, MAR 1, 2022 | |
United Prayer Journal // DAY 416
This resolution of
Daily United Prayer
is based on
An Humble Attempt
, originally put forward by Jonathan Edwards in 1748. Its design is to encourage God's people in the duty of united extraordinary prayer; setting aside some time every day to pray for the revival of His church and the advancement of Christ's kingdom in our homes, in our churches, in our nation, and in the world.
"For, behold, he prayeth." Acts 9:11.

These words were spoken by the Lord to Ananias to assure him that Saul of Tarsus was now a brother in Christ. "Behold, he prayeth." Look, Ananias, he's praying. Why is this significant? With this one statement we can learn two very simple truths that I'd like to share. First, God sees our prayers. And second, man sees our prayers.

First, God sees our prayers. Obviously, this must be the primary focus of our prayers. We are not praying "to be heard of men" but we are praying to our Father which is in heaven. There's nothing so difficult as listening to impersonal prayers that are so detached from the heart and are more targeted to individuals that are within earshot. This is the kind of praying that our Lord Jesus condemned in the Sermon on the Mount. "And when thou prayest, thou shalt not be as the hypocrites are: for they love to pray standing in the synagogues and in the corners of the streets, that they may be seen of men. Verily I say unto you, They have their reward." (Matt 6:5). As much as we detest it, we can all fall into this trap. Is there not a particle of pride lurking in all of our hearts that can be inflated at the sound of some affirming "Amens" when we pray? Friends, we must put that sort of thing to death as best we can.

But the second point is this, man sees our prayers. This is not to contradict the condemnation of Matthew 6:5. But rather, it is simply to point out that although our prayers are not offered up to be heard of men, our prayers inevitably bear testimony to men that we are the children of God. You know this to be true on a practical level. It's one thing to have individuals give assent to being a Christian, it's another thing entirely to hear them pray. That's the point of this passage in Acts 9:11. Ananias had some serious doubts about this Saul of Tarsus. Is his profession genuine or is it a trick? God tells him, "Behold, he prayeth." Our prayers have an unavoidable public-facing facet. For example, I cannot tell you how many times total strangers have come up to our family in a restaurant when they notice us doing something as simple as giving thanks for our food before we eat. We don't pray to be seen of men, but friends, there's a strong outward testimony that is on display in our prayers.

I would encourage us all to keep our prayers focused on God, and God alone. Don't allow others to get in the way. We shouldn't allow the fear of man PREVENT our prayers. And we shouldn't allow the praise of man to MOTIVATE our prayers. Shut out the world and pray to God. But realize this. Our prayers are a powerful testimony to others as well. So, let us open our mouths and pray together—declaring to the world that we are the children of God.
DAILY UNITED PRAYER
foundationsgroup.org
Mon-Fri @ 12pm EDT // Sat @ 10am EDT
We invite you to join our dedicated and earnest group of praying participants of all ages from around the world that meet every day over Zoom to pray. At the start of each prayer call, a different individual will bring a brief Scriptural meditation. Here's the most recent:
| | | | | | |
| --- | --- | --- | --- | --- | --- |
| | | | | | |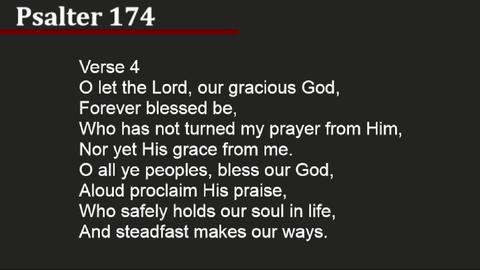 Monarch, Alberta
Bethel Free Reformed Church