Breaking News
All | The Vault | United Prayer | SA Newsroom
| | |
| --- | --- |
| MONDAY, FEB 14, 2022 | |
United Prayer Journal // DAY 403
This resolution of
Daily United Prayer
is based on
An Humble Attempt
, originally put forward by Jonathan Edwards in 1748. Its design is to encourage God's people in the duty of united extraordinary prayer; setting aside some time every day to pray for the revival of His church and the advancement of Christ's kingdom in our homes, in our churches, in our nation, and in the world.
"And it came to pass at that time, that Judah went down from his brethren, and turned in to a certain Adullamite, whose name was Hirah." Genesis 38:1.

This entire chapter of Genesis 38 is really kind of depressing. It chronicles the events of the failures in Judah's household. Admittedly, it's a play on words, but there's a real sense where "Judah went down" in this chapter in more ways than one. It starts with Judah taking a wife from the Canaanites and having a son he named "Er." Never was a son so aptly named. But he had another son named Onan. We read that the Lord killed both of these sons because of their wickedness. But it only goes from bad to worse with Judah having an illicit encounter with a harlot, who in actuality was his daughter-in-law disguised as a harlot, which resulted in the birth of Pharez and Zarah. As I say, it's a pretty depressing chapter but against this backdrop of the staggering failures in this home, the grace of God actually has opportunity to shine forth in splendent glory.

You see, something happened to Judah between chapters 37 and 44. In Genesis 37, Judah along with his other brothers hated Joseph with such a hatred that they wanted to kill him. In fact, it was Judah who suggested having him sold into slavery so that, essentially, he would die at the hands of others. And such was the hardness of these brothers, that even when Joseph cried out to them for help and mercy, they would not hear. "We are verily guilty concerning our brother, in that we saw the anguish of his soul, when he besought us, and we would not hear." (Genesis 42:21). But we see a completely transformed Judah in Genesis 44. Now, when faced with something similar, we see Judah stepping up and risking his own life for the life of his younger brother Benjamin. We see Judah now with a softened, tender heart. This new Judah is full of God's grace and full of Christ-likeness. It's beautiful.

I would like to suggest that the heartbreaking disappointments and failures that Judah suffered in Genesis 38 contributed to his great humbling and learning of the grace of God in the school of sorrow and grief. So much so, that this broken Judah along with his son Pharez, who was born in sin, take their place in the line of King David and in the genealogy of Jesus Christ Himself as we see in Matthew 1:3. It's all grace. And it's amazing.
DAILY UNITED PRAYER
foundationsgroup.org
Mon-Fri @ 12pm EDT // Sat @ 10am EDT
We invite you to join our dedicated and earnest group of praying participants of all ages from around the world that meet every day over Zoom to pray. At the start of each prayer call, a different individual will bring a brief Scriptural meditation. Here's the most recent:
| | | | | | |
| --- | --- | --- | --- | --- | --- |
| | | | | | |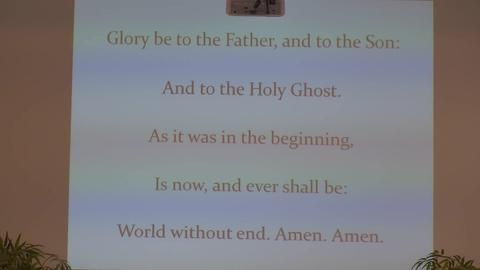 La Mirada, CA
Trinity Reformed Baptist Church