Breaking News
All | The Vault | United Prayer | SA Newsroom
| | |
| --- | --- |
| MONDAY, FEB 7, 2022 | |
United Prayer Journal // DAY 397
This resolution of
Daily United Prayer
is based on
An Humble Attempt
, originally put forward by Jonathan Edwards in 1748. Its design is to encourage God's people in the duty of united extraordinary prayer; setting aside some time every day to pray for the revival of His church and the advancement of Christ's kingdom in our homes, in our churches, in our nation, and in the world.
"Now I beseech you, brethren, for the Lord Jesus Christ's sake, and for the love of the Spirit, that ye strive together with me in your prayers to God for me." Romans 15:30.

This is such a compact verse. There's so much being communicated here, not the least of which is the fact that the entire Trinity is mentioned—Jesus Christ, the Spirit, and God the Father. But it also teaches us so much about prayer. Just some simple observations if I may. The first is that Paul is urging united prayer among the saints—zealous, fervent, earnest, believing, united prayer. "Strive together" implies an intensity and struggle. As we say so often, this is not referring to a "zeal" drummed up in the flesh, but rather a deep-hearted engagement of soul and mind. Tragically, prayer meetings can too often devolve into a kind of sanitized, word-perfect, laying out of requests as we are careful not to embarrass ourselves with grammatical missteps. Prayer is war. The kingdom of heaven suffers violence. And the violent take it by force. Second, we see here that the Apostle Paul is asking the believers to pray with him and for him. This is an important point. We have no trouble asking OTHERS to pray for us, but we will often stop short of asking others to pray WITH US for those petitions. There needs to be a willingness of those asking for prayer to actually pray together with the saints themselves. "Strive together WITH ME in your prayers to God FOR ME." This is the nature of corporate prayer, friends. We are praying TOGETHER. That means you. That means me. WITH ME, FOR ME. There are no spectators in this sport.

Finally, this kind of united prayer is important. "I beseech you, brethren" conveys a high level of urgency. You could almost say that the Apostle Paul is BEGGING the brethren to strive together in prayer with him and for him. Undoubtedly, he has been praying and could continue to pray on his own, but he is now pleading with the saints to PRAY WITH HIM. This is no light and optional matter. When we think of the missionaries on the field, pastors before their flocks, mothers raising their children, fathers guiding their homes, young people seeking direction—we desperately need to strive together in prayer. We BESEECH you, brethren, STRIVE TOGETHER WITH ME IN PRAYER.
DAILY UNITED PRAYER
foundationsgroup.org
Mon-Fri @ 12pm EDT // Sat @ 10am EDT
We invite you to join our dedicated and earnest group of praying participants of all ages from around the world that meet every day over Zoom to pray. At the start of each prayer call, a different individual will bring a brief Scriptural meditation. Here's the most recent:
| | | | | | |
| --- | --- | --- | --- | --- | --- |
| | | | | | |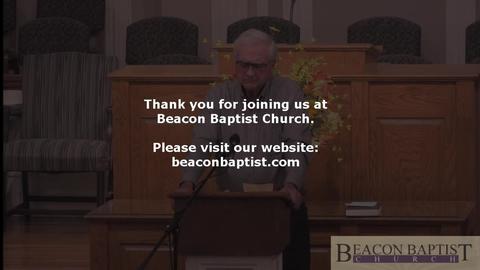 Burlington, NC
Beacon Baptist Church