Breaking News
All | The Vault | United Prayer | SA Newsroom
| | |
| --- | --- |
| MONDAY, JAN 31, 2022 | |
United Prayer Journal // DAY 391
This resolution of
Daily United Prayer
is based on
An Humble Attempt
, originally put forward by Jonathan Edwards in 1748. Its design is to encourage God's people in the duty of united extraordinary prayer; setting aside some time every day to pray for the revival of His church and the advancement of Christ's kingdom in our homes, in our churches, in our nation, and in the world.
It's been a while since the last VLOG update. But last night, I finally had the second wind needed to get another video posted. It has some post-conference reflections, comments about The Vault project at BJU, a new little side project I'm experimenting with called Read With Me, and a clip from a message that Rick gave yesterday at Morningside Baptist Church where he does a great job explaining what United Prayer is all about. Watching Rick's message was a blessing. It helped remind me what it is that we are doing and why we are doing it. If we're not careful, we can easily shift in our focus; but let us remain resolute in our original intent. The winds of change are howling all around us, friends'ÄĒdemanding of us our attention, and in far too many cases commanding our attention. It is incumbent on us to create a perimeter of stillness and quiet for both prayer and the Word. Take a warfare view of it. See every competing interest as a threat to the "one thing needful." There will always be a multitude of matters (legitimate and otherwise) that will cause us to become distracted like so many shiny objects all screaming, "Look at me!" Let us determine to choose that "good part" as Mary did and sit with intentionality at Jesus' feet.

To be absolutely clear, our overarching burden is to pray for revival. An outpouring of God's Spirit upon His people for the advancement of His kingdom. This is why it was so helpful to hear this clip from one of Dr Sexton's sermons yesterday. His focus is spot-on. I hope you will find encouragement in it as I did. I share his conviction that God will break through. The stage is being set for His greatest work yet. Our responsibility is to not faint in prayer. Join us today as GEOFF BANISTER brings to us the 10-minute prayer talk to help guide our hearts before we pray. There are 400+ on this email but just a fraction join. I would encourage you to make today different. And what's more, if you have never prayed with us, I would encourage you to take a step of faith and ask God to help you to pray audibly'ÄĒeven if it is simply to pray for the salvation of a friend or loved one. Commence the climb up the mountain, friend. May God revive our own hearts first.
DAILY UNITED PRAYER
foundationsgroup.org
Mon-Fri @ 12pm EDT // Sat @ 10am EDT
We invite you to join our dedicated and earnest group of praying participants of all ages from around the world that meet every day over Zoom to pray. At the start of each prayer call, a different individual will bring a brief Scriptural meditation. Here's the most recent:
| | | | | | |
| --- | --- | --- | --- | --- | --- |
| | | | | | |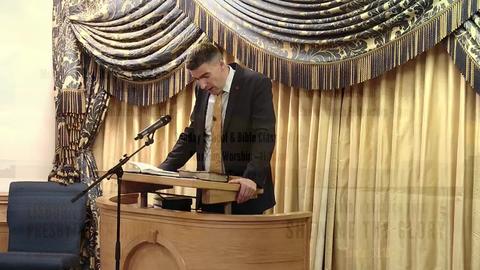 Lisburn, N. Ireland
Lisburn Free Presbyterian Church