Breaking News
All | United Prayer | SA Center | SA Newsroom
Many aren't buying public officials' 'stay-at-home' message.
Health officials are up against a fatigued public, as well as a number of people who don't believe in the danger of the virus, Gandhi said. But she is also part of a growing number of experts who think there's a better way to engage those who do want to take the pandemic seriously 'ÄĒ by taking a lesson from the public health strategy known as harm reduction.

Typically used to describe sex-education programs and needle exchanges for drug users, harm reduction aims to mitigate the risks of dangerous behaviors instead of trying to get people to cease altogether. ...
· Page 1 · Found: 16 user comment(s)
System Notice

SermonAudio.com

This forum thread has been closed by SermonAudio.
No further comments are permitted for this news item.
12/10/2020 11:02 PM

| | | | | |
| --- | --- | --- | --- | --- |
| Florian Geyer | | Fort worth | | | |
12/9/2020 11:29 PM

| | | | | |
| --- | --- | --- | --- | --- |
| Chrisgp from England | | England | | | |
12/9/2020 6:11 PM

| | | | | |
| --- | --- | --- | --- | --- |
| Julia | | Pa | | | |
12/9/2020 5:15 PM

| | | | | |
| --- | --- | --- | --- | --- |
| Mike | | New York | | | |
12/9/2020 1:30 PM

| | | | | |
| --- | --- | --- | --- | --- |
| Julia | | Pa | | | |
12/9/2020 1:28 PM

| | | | |
| --- | --- | --- | --- |
| HerbalMama | | | |
12/9/2020 1:23 PM

| | | | | |
| --- | --- | --- | --- | --- |
| Julia | | Pa | | | |
12/9/2020 12:54 PM

| | | | |
| --- | --- | --- | --- |
| Ladybug | | | |
12/9/2020 12:51 PM

| | | | | |
| --- | --- | --- | --- | --- |
| Julia | | Pa | | | |
12/9/2020 12:51 PM

| | | | |
| --- | --- | --- | --- |
| Ladybug | | | |
12/9/2020 12:46 PM

| | | | | |
| --- | --- | --- | --- | --- |
| Jim Lincoln | | Nebraska | | | |
12/9/2020 9:19 AM

| | | | |
| --- | --- | --- | --- |
| HerbalMama | | | |
12/8/2020 9:07 PM

| | | | | |
| --- | --- | --- | --- | --- |
| Julia | | Pa | | | |
12/8/2020 3:12 PM

| | | | | |
| --- | --- | --- | --- | --- |
| John Lee | | Wales | | | |
12/8/2020 2:52 PM

| | | | | |
| --- | --- | --- | --- | --- |
| Jim Lincoln | | Nebraska | | | |
| | |
| --- | --- |
| There are a total of 16 user comments displayed | |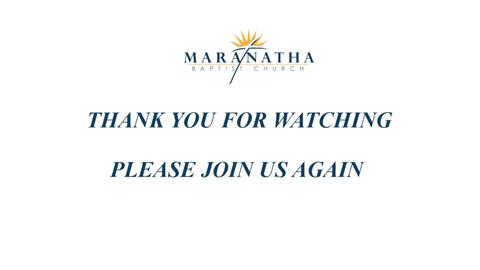 Gates, TN
Maranatha Baptist Church
Alistair Begg
Truth For Life