Breaking News
All | United Prayer | SA Center | SA Newsroom
1,200 California Pastors Agree To Reopen May 31 In Defiance Of Stay-At-Home Order
More than 1,200 California pastors say they will resume in-person services on May 31 in defiance of Gov. Gavin Newsom's stay-at-home order to slow the spread of the new coronavirus.

Newsom has gradually allowed some businesses to reopen as the state's number of virus-related hospitalizations has flattened. But churches are still banned, along with hair salons and sporting events. Newsom said Monday churches could reopen in weeks, not months.

But many churches are tired of waiting. Wednesday, a lawyer representing a church in Lodi that has sued Newsom said more than 1,200 pastors have signed a "declaration of essentiality" that announces their plan to reopen on May 31 while observing physical distancing and other precautions. ...
|

FOCUS

| Audio commentaries on this news item | more..

501c3 Churches ChainedTo State • 330+

Jason Cooley |

Old Paths Baptist Church

Some Thoughts on Science.. • 590+

Matthew Trewhella |

Mercy Seat Christian Church
| | | |
| --- | --- | --- |
| · Page 1 · Found: 80 user comment(s) | | |
System Notice

SermonAudio.com

This forum thread has been closed by SermonAudio.
No further comments are permitted for this news item.
5/28/2020 11:52 AM

| | | | |
| --- | --- | --- | --- |
| John UK | | | |
5/28/2020 10:42 AM

| | | | |
| --- | --- | --- | --- |
| John UK | | | |
5/28/2020 10:04 AM

| | | | | |
| --- | --- | --- | --- | --- |
| Unprofitable Servant | | TN | | | |
5/28/2020 10:02 AM

| | | | | |
| --- | --- | --- | --- | --- |
| Unprofitable Servant | | TN | | | |
5/28/2020 10:01 AM

| | | | | |
| --- | --- | --- | --- | --- |
| Unprofitable Servant | | TN | | | |
5/28/2020 9:14 AM

| | | | | |
| --- | --- | --- | --- | --- |
| Dr. Tim | | Way Down Yonder | | | |
5/28/2020 9:05 AM

| | | | |
| --- | --- | --- | --- |
| John UK | | | |
5/28/2020 8:29 AM

| | | | | |
| --- | --- | --- | --- | --- |
| Dr. Tim | | Way Down Yonder | | | |
5/28/2020 6:41 AM

| | | | |
| --- | --- | --- | --- |
| John UK | | | |
5/28/2020 5:27 AM

| | | | |
| --- | --- | --- | --- |
| John UK | | | |
5/28/2020 4:00 AM

| | | | |
| --- | --- | --- | --- |
| John UK | | | |
5/28/2020 2:41 AM

| | | | | |
| --- | --- | --- | --- | --- |
| Dr. Tim | | Way Down Yonder | | | |
5/27/2020 5:02 PM

| | | | | |
| --- | --- | --- | --- | --- |
| Unprofitable Servant | | TN | | | |
| | |
| --- | --- |
| 5/27/2020 4:53 PM | |
| | |
5/27/2020 2:19 PM

| | | | |
| --- | --- | --- | --- |
| John UK | | | |
5/27/2020 2:01 PM

| | | | | |
| --- | --- | --- | --- | --- |
| Dr. Tim | | Way Down Yonder | | | |
5/27/2020 1:28 PM

| | | | |
| --- | --- | --- | --- |
| John UK | | | |
5/27/2020 12:46 PM

| | | | | |
| --- | --- | --- | --- | --- |
| Dr. Tim | | Way Down Yonder | | | |
5/27/2020 11:38 AM

| | | | |
| --- | --- | --- | --- |
| John UK | | | |
5/27/2020 11:22 AM

| | | | | |
| --- | --- | --- | --- | --- |
| Dr. Tim | | Way Down Yonder | | | |
| | |
| --- | --- |
| There are a total of 80 user comments displayed | |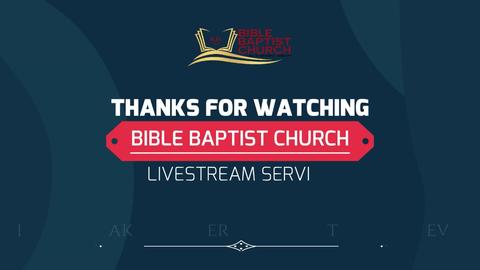 Davao City, Philippines
Bible Baptist Church Davao