Breaking News
All | United Prayer | SA Center | SA Newsroom
Ravi Zacharias Dies of Cancer
Apologist Ravi Zacharias died Tuesday, two months after he announced he had been diagnosed with cancer. He was 74.

The popular author and Christian teacher was known for his work through Ravi Zacharias International Ministries (RZIM), which focused on apologetic arguments for the existence of God and the reasonableness of Christianity.

He preached in more than 70 countries and authored more than 30 books in his 48-year career, teaching Christians to engage with skeptics and arguing that the Christian worldview has robust answers to humanity's existential questions. ...
|

FOCUS

| Audio commentaries on this news item | more..

Interview with Ravi Zacharias • 200+

Kevin Boling |

Knowing The Truth Radio

Ravi Zacharias died • 330+

Adam McManus |

The World View in 5 Minutes
| | | |
| --- | --- | --- |
| · Page 1 · Found: 31 user comment(s) | | |
System Notice

SermonAudio.com

This forum thread has been closed by SermonAudio.
No further comments are permitted for this news item.
5/24/2020 7:50 PM

| | | | | |
| --- | --- | --- | --- | --- |
| John for JESUS | | Atl | | | |
5/24/2020 7:14 PM

| | | | | |
| --- | --- | --- | --- | --- |
| Sinner saved by Grace | | New Jersey | | | |
5/24/2020 12:51 PM

| | | | | |
| --- | --- | --- | --- | --- |
| hey_yo | | North East | | | |
5/23/2020 6:57 PM

| | | | | |
| --- | --- | --- | --- | --- |
| Mike | | New York | | | |
5/23/2020 6:43 PM

| | | | | |
| --- | --- | --- | --- | --- |
| Sinner saved by Grace | | New Jersey | | | |
5/23/2020 6:03 PM

| | | | | |
| --- | --- | --- | --- | --- |
| hey_yo | | North East | | | |
5/23/2020 5:31 PM

| | | | | |
| --- | --- | --- | --- | --- |
| John for JESUS | | Atl | | | |
5/23/2020 4:48 PM

| | | | | |
| --- | --- | --- | --- | --- |
| Sinner saved by Grace | | New Jersey | | | |
5/23/2020 2:36 PM

| | | | | |
| --- | --- | --- | --- | --- |
| hey_yo | | North East | | | |
5/23/2020 2:10 PM

| | | | | |
| --- | --- | --- | --- | --- |
| Sinner saved by Grace | | New Jersey | | | |
5/21/2020 11:51 PM

| | | | | |
| --- | --- | --- | --- | --- |
| John for JESUS | | Atl | | | |
5/21/2020 10:29 AM

| | | | | |
| --- | --- | --- | --- | --- |
| Michael H | | Australia | | | |
5/21/2020 9:21 AM

| | | | | |
| --- | --- | --- | --- | --- |
| John for JESUS | | Atl | | | |
5/21/2020 9:21 AM

| | | | | |
| --- | --- | --- | --- | --- |
| John for JESUS | | Atl | | | |
5/21/2020 7:30 AM

| | | | | |
| --- | --- | --- | --- | --- |
| Dr. Tim | | Way Down Yonder | | | |
5/21/2020 6:05 AM

| | | | | |
| --- | --- | --- | --- | --- |
| Michael H | | Australia | | | |
5/20/2020 10:53 PM

| | | | | |
| --- | --- | --- | --- | --- |
| Michael H | | Australia | | | |
5/20/2020 7:35 PM

| | | | | |
| --- | --- | --- | --- | --- |
| Jim Lincoln | | Nebraska | | | |
5/20/2020 7:19 PM

| | | | | |
| --- | --- | --- | --- | --- |
| John for JESUS | | Atl | | | |
5/20/2020 6:54 PM

| | | | | |
| --- | --- | --- | --- | --- |
| Michael H | | Australia | | | |
| | |
| --- | --- |
| There are a total of 31 user comments displayed | |
| | | |
| --- | --- | --- |
| Jump to Page : [1] 2 | last | | |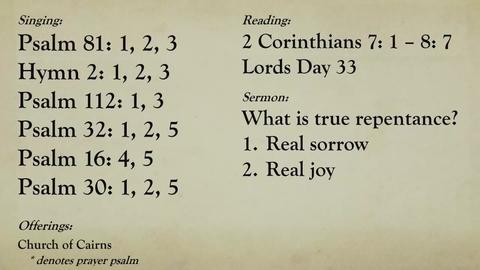 Rockingham, Western Australia
Free Reformed Church Rockingham