Breaking News
All | United Prayer | SA Center | SA Newsroom
Christian Scientist Predicts Jesus Will Return in Three Weeks
A Christian computer scientist predicted that, based on her calculations and analysis of the 70 "sevens" prophecy mentioned in the book of Daniel, the return of Jesus to earth is imminent—and it won't even reach 2017.

Nora Roth, a self-proclaimed Bible student, said the second coming of Christ will happen in three weeks, specifically on New Year's Eve. Her findings, written on her blog "The Mark of the Beast," are based on the biblical pattern of following the sabbath.

Roth cited that God mandated the seventh day of the week to be the sabbath day. He also instructed the Israelites to observe the sabbath year or sabbatical year, which is the seventh year of the seven-year agricultural cycle.

Leviticus 25: 3-4 says: "For six years you shall sow your field, and for six years you shall prune your vineyard and gather in its fruits, 4 but in the seventh year there shall be a Sabbath of solemn rest ...
|

FOCUS

| Audio commentaries on this news item | more..
| | | |
| --- | --- | --- |
| · Page 1 · Found: 27 user comment(s) | | |
System Notice

SermonAudio.com

This forum thread has been closed by SermonAudio.
No further comments are permitted for this news item.
12/15/16 4:37 AM

| | | | | |
| --- | --- | --- | --- | --- |
| John UK | | Wales | | | |
12/14/16 10:59 PM

| | | | | |
| --- | --- | --- | --- | --- |
| Rnel | | South africa | | | |
12/14/16 3:51 AM

| | | | | |
| --- | --- | --- | --- | --- |
| connor | | ca | | | |
12/14/16 3:36 AM

| | | | | |
| --- | --- | --- | --- | --- |
| connor | | ca | | | |
12/13/16 5:08 PM

| | | | | |
| --- | --- | --- | --- | --- |
| s c | | Oh | | | |
12/13/16 3:48 PM

| | | | | |
| --- | --- | --- | --- | --- |
| JJ | | Free | | | |
12/13/16 12:13 PM

| | | | |
| --- | --- | --- | --- |
| ladybug | | | |
12/13/16 12:10 PM

| | | | | |
| --- | --- | --- | --- | --- |
| Jonathan van Rensburg | | Cape Town South Africa | | | |
12/12/16 11:54 PM

| | | | | |
| --- | --- | --- | --- | --- |
| CJ | | Indiana, USA | | | |
12/12/16 10:59 PM

| | | | | |
| --- | --- | --- | --- | --- |
| Rnel | | South africa | | | |
| | |
| --- | --- |
| 12/12/16 8:47 PM | |
| | |
12/12/16 8:11 PM

| | | | | |
| --- | --- | --- | --- | --- |
| Jeremy | | Usofa | | | |
12/12/16 7:09 PM

| | | | | |
| --- | --- | --- | --- | --- |
| Pastor Jon | | Florida | | | |
12/12/16 7:06 PM

| | | | | |
| --- | --- | --- | --- | --- |
| SteveR | | Mt Zion | | | |
12/12/16 6:38 PM

| | | | | |
| --- | --- | --- | --- | --- |
| Pastor Jon | | Florida | | | |
12/12/16 4:51 PM

| | | | | |
| --- | --- | --- | --- | --- |
| Mike | | New York | | | |
12/12/16 3:55 PM

| | | | | |
| --- | --- | --- | --- | --- |
| John Yurich USA | | USA | | | |
12/12/16 3:41 PM

| | | | |
| --- | --- | --- | --- |
| narroway | | | |
12/12/16 3:22 PM

| | | | | |
| --- | --- | --- | --- | --- |
| Sergio | | The Country of California | | | |
12/12/16 2:54 PM

| | | | | |
| --- | --- | --- | --- | --- |
| John UK | | Wales | | | |
| | |
| --- | --- |
| There are a total of 27 user comments displayed | |
| | | |
| --- | --- | --- |
| Jump to Page : [1] 2 | last | | |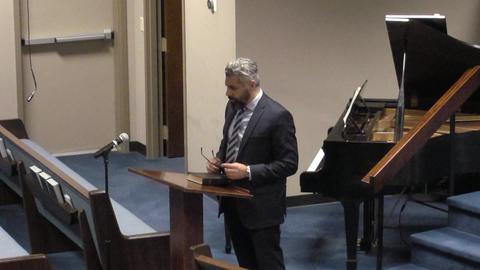 Greenville, SC
Faith Free Presbyterian Church