Breaking News
All | United Prayer | SA Center | SA Newsroom
Abortionists Admit Emotional Toll of Grisly Work
In a recently released Center for Medical Progress (CMP) video, a Michigan Planned Parenthood executive encourages her colleagues to stop 'Äúdenying the reality'ÄĚ of pro-life images of aborted babies and start acknowledging abortion does involve violence and the killing of persons. In the video, leading abortion providers and educators confide to each other that their ability to remain on the job depends on finding ways to deal with their workplace horrors.

The abortion industry pulled out all the stops to hide the content of the NAF event (and PPMSM workshop) videos'ÄĒwith good reason. Unlike the Planned Parenthood executives recorded in the series of CMP videos released during the last four months, the NAF and PPMSM speakers seem acutely aware of the moral implications of their handiwork. Their admissions stand in stark contrast to the dehumanizing language abortion industry advocates have long used ...
· Page 1 · Found: 15 user comment(s)
System Notice

SermonAudio.com

This forum thread has been closed by SermonAudio.
No further comments are permitted for this news item.
11/11/15 2:43 AM

| | | | | |
| --- | --- | --- | --- | --- |
| Dave | | from oz | | | |
11/10/15 10:37 AM

| | | | |
| --- | --- | --- | --- |
| GSMontana | | | |
11/9/15 3:16 PM

| | | | | |
| --- | --- | --- | --- | --- |
| Christopher000 | | Rhode Island | | | |
11/8/15 7:53 PM

| | | | | |
| --- | --- | --- | --- | --- |
| Dee | | pacific | | | |
11/8/15 3:00 PM

| | | | | |
| --- | --- | --- | --- | --- |
| I belong to Jesus | | Wisconsin | | | |
11/8/15 11:10 AM

| | | | | |
| --- | --- | --- | --- | --- |
| papi | | web | | | |
| | |
| --- | --- |
| 11/8/15 11:02 AM | |
| | |
11/8/15 10:21 AM

| | | | | |
| --- | --- | --- | --- | --- |
| Christopher000 | | Rhode Island | | | |
11/8/15 9:13 AM

| | | | | |
| --- | --- | --- | --- | --- |
| Christopher000 | | Rhode Island | | | |
11/8/15 1:12 AM

| | | | | |
| --- | --- | --- | --- | --- |
| Carl in Greensboro | | NC | | | |
| | |
| --- | --- |
| There are a total of 15 user comments displayed | |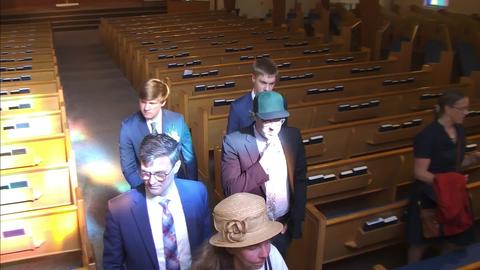 Grand Rapids, MI
Free Reformed Church of Grand Rapids